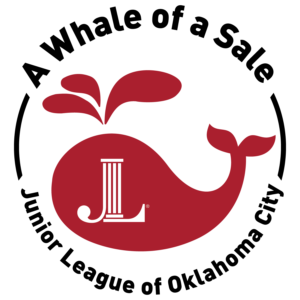 Thank you for your support of our 2023 event! The sale on April 20-23 was a success and we could not have done it without our Committee, volunteers, donors and of course, our shoppers!
We're glad you found new-to-you treasures at Whale of a Sale and hope to see you in 2024. We'll share event details as they become available.
We'll post the 2024 dates soon and hope you'll join us to shop for a good cause.
A Whale of a Sale is a multi-day, upscale rummage sale each spring benefiting JLOC and our community projects.
All money raised stays here in the OKC community, supporting our community partners and our mission of training women to be skilled leaders and community volunteers.
While engaging our community and helping shoppers take home new treasures, the Junior League is able to raise funds to support our community projects and membership training throughout Oklahoma City. We are grateful for the support and excitement of the community that makes this event a success.
If you are a business or individual interested in sponsoring this or any other Junior League event, please email woas@jloc.org – we look forward to partnering with you!