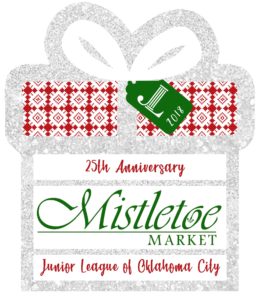 We invite you to join us at this year's Mistletoe Market held at the Cox Convention Center in Downtown OKC October 10-13, 2018!
Click HERE to purchase General Admission and Special Event tickets! 
Mistletoe Market is a three-day, one-stop holiday shopping extravaganza featuring unique merchandise from more than 100 carefully selected vendors from Oklahoma and across the country. Shop for clothing, gourmet foods, gifts, children's items, jewelry and more during the market – we promise you'll find everything you need and more!
Mistletoe Market raises funds to support the mission of the Junior League of Oklahoma City.  Proceeds from Mistletoe Market go to fund our Focus area of Health & Wellness community projects.
Thanks to the dollars raised at Mistletoe Market since 1994, JLOC has been able to distribute over $1.5 million to Oklahoma City through funding of community projects!
Follow us on Facebook, Twitter and Instagram!
#MistletoeMarket