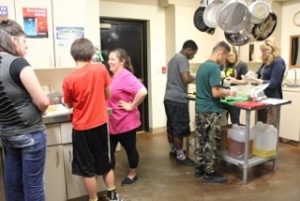 Junior League volunteers enjoy a meal and activity with residents at the Emergency Youth Shelter, a program of Pivot, a Turning Point for Youth. These residents, ages 12-17, stay at the shelter while in crisis or experiencing a transition in their living situation.
JLOC volunteers plan the menu and residents are hands-on in the preparation and serving process, eating the meal in a "family style" setting together, while also learning about healthy food options and choices. The goal is to break the routine of regular "fast food" meals, teaching cooking fundamentals and the importance of healthy eating to children who are living independently.
Volunteers have also prepared housewarming baskets of needed items like cleaning product, linens and more for youth transitioning into the tiny homes on Pivot's campus.