Why Project EmpowHER?
In 2019, Members were looking for ways to increase our impact on health-related issues across OKC.
When we learned about the staggering number of individuals without access to period products, we knew we had to help.
Mission: Empowering women and girls in the Oklahoma City Metro by providing access to menstrual supplies and health education.
Vision: End period poverty in the Oklahoma City Metro.
Strategic Goals:
Access: Offer period resources and support to menstruators of all ages
Culture Shift: Advance the conversation on period poverty
Engagement: Grow impact through education and community network
Sustainability: Structure for growth, inventory, financial support and commitment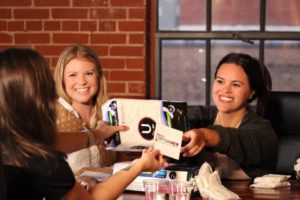 Did You Know?
1 in 4 menstruators struggled to purchase period products within the past year due to lack of income.
1 in 5 low-income women reports missing work, school, or similar events due to lack of access to period supplies.
Lack of access to period supplies is linked to using substitute products (toilet tissue or socks), stretching product usage, and missing important events.
An overwhelming 88% of women agree that period products are a basic necessity.
Only 4% of menstruators are aware of a local resource where free or reduced-cost period supplies are available.
State and federal safety-net programs cannot be used to purchase period supplies.
Source: 2018 U by Kotex survey conducted with YouGov
To partner with JLOC's Project EmpowHer and request period products, please complete this form.
Thank you for your interest in increasing access to menstrual resources and elevating the conversation on period poverty.

Project EmpowHer is proud to be an Allied Organization of the Alliance for Period Supplies.