The Zone at The Children's Hospital
The Zone was the Junior League of Oklahoma City and The Children's Hospital joint effort in the spring of 2009.  It was JLOC's 80th Anniversary Signature Project. JLOC has a long-standing association with The Children's Hospital. The League's partnership dates back to the 1930's when our very first project launched with what is today known as The Children's Hospital at OU Medical Center.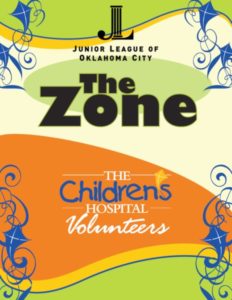 Our organizations united again for The Zone, a 5,000 square foot, multi-faceted area that provide young patients with their own haven within the hospital. It is a stress-free place where they can read books, watch movies, enjoy computer activities and meet with visitors. It also offers space within the hospital for patients to take respite from their care and spend time with family and friends in a more relaxed setting. The Zone at The Children's Hospital officially opened to patients and their families in March of 2009.  This family life center has toys, games, movies and various recreational activities to entertain patients and siblings during their hospital visit.
The Children's Hospital treats more than 100,000 children each year, not including their families and friends that visit their loved ones. These children do not represent one socioeconomic group, any one race or religion.
The Junior League committed to The Children's Hospital to assist in raising $1.1 million by November 2008 to fully fund The Zone's creation. Expenditures included construction, book drives and marketing costs. The aim was to have the entire project completed by spring 2009. The League committed a large number of volunteers and resources to ensure this project was successful. With more than 1,400 members in the metropolitan area, the League involved nearly every member in the effort.