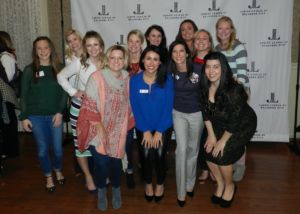 Age: A prospective member must have reached her 21st birthday as of May 31 of the year for which you are applying for.
Residency: A prospective member must reside within the Oklahoma City area or suburb thereof. Specific boundaries are Seward Road to the north, Banner Road to the west, Pottawatomie Road to the east, and Indian Hills Road to the south. If you reside outside these parameters and wish to apply as a "Non-Resident" Provisional, please email Jenna Hudson, our 2018 – 2019 Provisional Admissions and Training (PAT) Chair.
Sponsors: All prospective provisional members are required to be sponsored by a woman who is currently in good standing of the Junior League of Oklahoma City. This member can be an Active or Sustaining member. Prospective members who are having difficulty finding a sponsor may request assistance from the Provisional Admissions and Training (PAT) Committee (PAT Committee) in finding a sponsor from the JLOC sponsor pool. There are a limited number of sponsors available, so we recommend Prospective members diligently seek out a sponsor within their social network including circle-of-friends, workplace, place of worship, other charitable organizations, social media, etc.
All eligible applicants will be invited to join our 2018-2019 Provisional program, which will begin in April 2018 and be completed in May 2019. To begin this process, please click HERE.