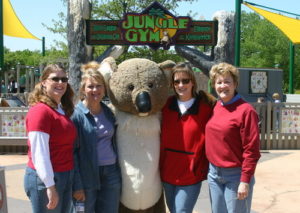 Serving our community is the primary goal of the Junior League of Oklahoma City. The League is proud to partner with numerous nonprofit agencies to provide services and support to the Oklahoma City community. Since 1927, the Junior League has contributed more than a million volunteer hours to the Oklahoma City community.
Between June 1, 2020, and May 31, 2021, JLOC Members volunteered more than 3,000 hours in the greater Oklahoma City community, totaling a value of more than *$85,620.
Currently, the Junior League is researching and developing potential volunteer opportunities for its members. We are seeking information from nonprofit agencies that would like to partner on future volunteer projects. Click on the "Partner Agencies" tab for more information on becoming a partner agency.
 (*Calculated according to data from the Bureau of Labor Statistics for the monetary value of a volunteer hour. In 2020, the rate was calculated as $28.54/hour.)