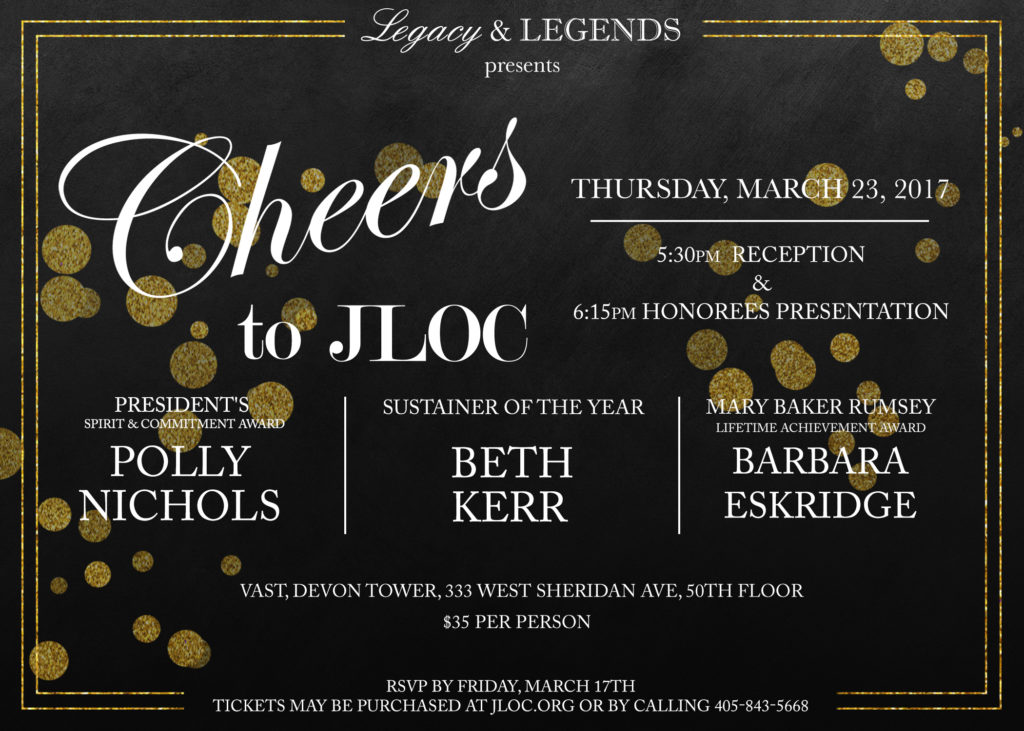 When: Thursday, March 23, 2017
Time: 5:30-7:30 p.m.
Where: VAST, atop Devon Tower in downtown OKC
Click HERE to purchase tickets!
For any questions regarding the event, please contact Legacy & Legends Chairmen, Jamie Manoles and Heather Coyle.
"The Legacy and Legends Celebration is, in many ways, our most important event of the Junior League year. The women who are honored are true stewards of our mission.
By honoring them at this community wide event, their stories inspire both our younger members, as well as men and women in the general community to contribute and help build a better Oklahoma City."
– President, Sara Sweet
---

2017 Sustainer of the Year
Beth Kerr
The Sustainer of the Year Award recognizes a Junior League member for recent or current achievements within three years in service to the community.  By exhibiting leadership qualities and employing her Junior League training, the past winners have made a significant difference in a community project.
---
2017 Mary Baker Rumsey Lifetime Achievement Award

Barbara Eskridge
Mary Baker Rumsey was a founder and the first president of the Oklahoma City Junior League.  She believed that volunteers have a positive impact on their community and epitomized this belief through a lifetime of service.  Her son, Joseph Rumsey, funded this award to honor his mother through the Oklahoma City Community Foundation.
---
2017 President's Spirit of Commitment Award
                                     Polly Nichols

Recipients of the President's Spirit of Commitment Award have demonstrated significant volunteer achievement and commitment to the community throughout her lifetime. This award recognizes community leaders that have created real change in the local community. By applying her Junior League training and leadership skills to the volunteer service she helped create, organize and develop, these recipients symbolize the Junior League spirit.