By Kayla Coffey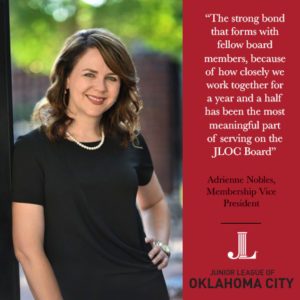 We are kicking-off our first #MemberMonday with a spotlight on Adrienne Nobles, Membership Vice President.
Adrienne decided to join the League after witnessing a few of her friends having a great time as Provisionals and she thought, "hey, that looks like fun!" She had lived away from OKC for several years so joining the League was also the perfect opportunity for her to connect with motivated, like-minded women in the area. She was also impressed with the community service opportunities the League offered.
Adrienne feels particularly connected with the "developing the potential of women" portion of our mission. She feels that women have so much to offer the world, particularly when their leadership potential is cultivated. She believes that the world is a better place when women are engaged and contributing at a high level and that the League helps to facilitate this.
When asked what's the best part of her position, Adrienne replied that "helping to enhance the membership experience in ways that make sense for the needs today's women," has been the best part. She added that the Membership Council is ready to make meaningful changes – such as the recent change in criteria to qualify for Sustainer status – that offer flexibility and encourage continued engagement within the League.
If you haven't met Adrienne yet, introduce yourself at the next General Membership Meeting!