By Kayla Coffey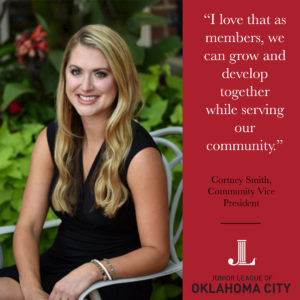 For this week's #MemberMonday we are spotlighting Cortney Smith, Community Vice President.
When Cortney joined the Junior League, her main goal was simply to become a volunteer in the community. She is a former CASA volunteer, which helped her to appreciate the diverse community projects the JLOC members have to choose from. Through the League she has been able to serve veterans, homeless adolescents and even been able to read to children at the Zoo. These are all experiences Cortney has cherished, and she is incredibly thankful to the League for providing these opportunities.
When asked what makes our mission meaningful to you, Cortney replied, "I love that as members, we can grow and develop together while serving our community." In fact, she was able to describe the League in just three powerful words: Impactful. Committed. Caring. Those three words could also describe each and every one of our League volunteers.
The best part of serving as the Community Vice President is watching everything come together, according to Cortney. She says she's been very fortunate to have a rockstar team to work with, who are passionate about advancing JLOC's community service reach and impact. Watching these women work together, brainstorm and follow through with ideas has been a wonderful pleasure and inspiration to Cortney.
General Membership Meetings are a great opportunity to introduce yourself to our board members and learn more about their service!