This week's guest post was contributed by Junior League of Oklahoma City active member, Beth Armstrong.
Celebrated on the first Monday of September, Labor Day is a uniquely American holiday saluting the prosperity of our country through the hard work (or labor) of our citizens. Sounds like a lofty way to describe an excuse to sleep in on a Monday, right? But it's important to take time before the business of fall sets in to let off some steam and celebrate the end of summer with friends and family.
Since 1882, we've celebrated Labor Day with parades, festivals, and family amusement. How do you spend your holiday? Here are a few ideas to help you and your family make the most out of the Labor Day holiday.
The Long Weekend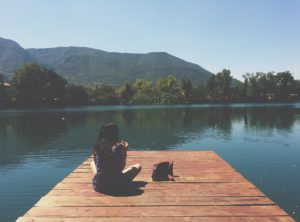 Who says vacations have to be far away? Make the weekend a romantic getaway with your sweetheart at the Rivers Edge Cottages in Watson, Oklahoma or take the kids to explore the Alabaster Caverns just two and a half hours away. Visiting one of Oklahoma's 62 oxbow lakes for fishing, boating, and sunbathing is a favorite among friends.
The Go-All-Out Labor Day
You might be like me and prefer that someone else throw the party and just show up with a group of friends. Look for festivals around the city—like Choctaw's Oktoberfest, or Labor Day events at your favorite metro hangouts. Patio weather won't be here forever—take advantage!
The House Party
Did someone say Pool Party? Swimming season is coming to a close, so a pool party may be just what the doctor ordered as your family ushers in a new school year and those fall holidays right around the corner. Add a fun theme—like pink flamingos, Americana, or even make it an office party for your coworkers and their families.
The Daylong Recharge
Sometimes we just need a break. Planning a party, driving out to the lake, or going to a festival might sound like fun, but it also requires extra planning and effort. Don't be afraid to hit the pause button on Labor Day and just relax… after all, what better way to celebrate your hard work than to allow yourself some "me" time to recharge? Take a long bath, try mixing up one of those Pinterest mud mask recipes, binge watch your favorite show, paint your nails… Just take the day for you!
Whatever your plans, be sure to stay safe, have fun, and be ready for work or school or parenting, or whatever the day demands on Tuesday morning!