JLOC Volunteer Efforts Recognized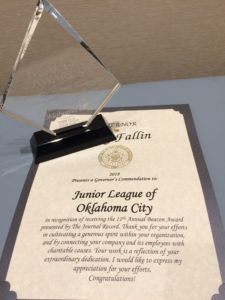 The Junior League of Oklahoma City was recently recognized as a top "Nonprofit serving Nonprofits" at the 11th annual Beacon Awards, hosted by the Journal Record.
The award recognizes the vital support that JLOC provides to our community, specifically the work our volunteers do with the YWCA of Oklahoma City. For more than 14 years, JLOC volunteers have been supporting YWCA through programs designed to assist their clients.
"League members are committed to building a better Oklahoma City," President Pam Campbell said. "Not only are we training and developing the potential of our members, but this project allows us to encourage, empower and help develop the potential of the YWCA's clients."
Volunteers have developed programs designed to educate and support the YWCA clients through activities such as nutrition education, physical activity, mental health exercises, stress relief and more.  Junior League volunteers also recently renovated a Meditation Room where shelter residents can experience a peaceful space to help them heal.
The weekly events and activities are positively impacting League volunteers as well.  "To me, their mission is everything. I can't imagine not having it or being involved in some way," said Nikki West, project manager. "I love working with other women who share a passion for volunteerism and an interest in the eradication domestic violence and sexual assault, which is the cornerstone of the YWCA mission."
We are honored to be recognized for our efforts to create a healthier community.  A special thank you to our volunteers who dedicate their time and energy to projects like the one at  the YWCA.
View a video taken at the Beacon Awards