Get to Know Our Managing Director, Kellian Schneider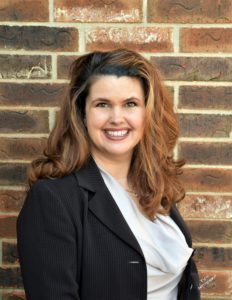 The Board of Directors are very pleased to announce the appointment of Kellian Schneider, as our new Managing Director. Kellian has extensive experience in marketing, professional development and nonprofit management. For the past 10 years she has consulted with nonprofits and businesses in the areas of strategic planning and brand development. We are confident that the addition of Kellian will allow us to grow and develop further in the OKC community!
To get to know her a little better, we asked her a few questions:
Q: Could you tell our membership a bit about your previous employment(s)?
A: I thoroughly enjoy non-profit management, and have had the great fortune to be entrusted with leading culture, experiences, and programs on the state and national level. Recently I served as the Vice President of Professional Development for the Oklahoma Association of REALTORS, a 501c6 nonprofit organization with about 10,000 members (tenure of eight years). I served as the Executive Director of Experiences at LifeChurch for several years, which my family still attends.
For over 10 years, it has been my privilege to serve on the Board of Directors for The Oklahoma Business Ethics Consortium (OK Ethics). I have been invited to serve as VP of Public Relations for 2018.
Q: What about your family? Are you married? Any children?
A:  I live in Guthrie, and have been married for over twenty years to my husband, Sam. Due to an accident years ago, I thought I would never be able to have kids. However, one day it became apparent that I was pregnant and now we have a two-year old son running around – Mason.  He is such a joy and loves to meet new people, so I look forward to introducing him to folks!
We also have a few fur babies – Panda (90 lb. Great Pyrenees/Border Collie mix) and River (65 lb. German Shepherd).  We also share two cats with the neighbors.
Q: What are you most looking forward to in your new position as Managing Director?
A:  I love helping people to flourish and achieve the extraordinary, so I am over-the-top excited to contribute to the amazing things the women of the Junior League are doing! I hope that my experience will greatly enhance the organization as a whole and help members as they do incredible things in our community.
Q: What do you think is the biggest impact JLOC has on the community? 
A:  What a rich heritage this organization has! The Junior League has a unique reputation that opens doors and opportunity to make a significant impact in our community. I think the dedication, organization and expertise of the members makes this a force to be reckoned with. I feel like this group can take on anything!
Q: What do you enjoy doing in your free time? What are your hobbies?  
A: I am an extremely curious person and easy to entertain – I'm not sure how to be bored. I love variety and trying new things. I thoroughly enjoy a good giggle and spending time with family/friends.  Other than that, some things I enjoy are: traveling, reading, the outdoors – exploring and active endeavors, animals, gardening (edible landscaping is my favorite challenge right now) and working with a school district in Nicaragua.
Q: What is your favorite book or most recently read book you enjoyed?
A: I recently began reading "Crucial Conversations" and I think it's going to be really good. I just finished a historical fiction book "From Sand and Ash" by Amy Harmon that I enjoyed, set in Italy as the 2nd World War began.
Q: Anything else you would like JLOC members to know?
A: I want to thank the JLOC members for the overwhelmingly warm welcome I've received!  I am eager to get to know each of you and really look forward to working together.
Thank you, Kellian. We are looking forward to getting to know you and working with you, as well!
SaveSave
SaveSave
SaveSave