Being Boss: How Kathleen Shannon Takes Charge
By Magon Mayhall
Author and podcast host Kathleen Shannon will serve as a guest speaker at our Sept. 2018 General Membership Meeting. We started the conversation with a Q&A about her views on defining personal and professional success.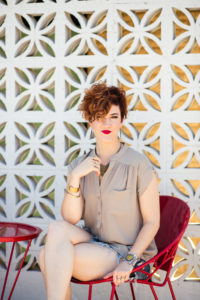 What do you see on the horizon for your line of work?
When I co-founded Braid Creative seven years ago with my sister, I had no idea what to expect but had a big vision for what we could create. We've worked on some amazing projects locally with clients such as A Good Egg Dining Group, Tinker Federal Credit Union, Wheeler District, Commonplace Books and more. Our work extends nationally to work with entrepreneurs, coaches, wellness professionals, authors, leadership organizations and even higher education institutions. We have the cutest studio in Paseo with plans to expand our physical space to meet the growing demands and interests we have from our current and potential clients.
No matter who we're working with, we're always trying to help our clients blend more of who they are into the work they do – so not only does their work become more authentic, they also become more creatively fulfilled and aligned in their daily tasks.
Beyond Braid Creative I am a host of the podcast Being Boss with my "business bestie" and creative colleague Emily Thompson. Our podcast has almost six million downloads and has been turned into a book called Being Boss: Take Control of Your Work and Live Life on Your Own Terms published by Running Press in April 2018. The business I've built with Braid Creative allows me to give our listeners a peek behind the curtain of what it takes – from cultivating confidence, making bold decisions, implementing productive habits and drawing firm boundaries – to be boss.
On the horizon, I see a lot more speaking opportunities, workshops and offline retreats.
Is there any advice you would give to a person who is starting out in your chosen career?
First and foremost, focus on your craft and putting in your 10,000 hours to become an expert in your chosen field. And remember, it's not just what you do but how you make people feel – make your clients feel taken care of and be reliable and resourceful for your colleagues and collaborators.
I would also say that when you can capture, shape and share what you're experiencing along the way – whether that's with a blog or on social media – you will learn so much about yourself, attract like-minded peers and begin to position yourself as an authority in your field.
What is one habit you recommend everyone takes up?
Whether you work from home or at an office, taking time to get out from behind your screens and go for a walk will give your brain time to solve problems in new ways. Going for a walk is not only great exercise – you can pop in your earbuds and listen to an audiobook or podcast while you move.
What event had the most influence on you?
About five years ago, I attended a tiny retreat called Designer Vaca that has now turned into a full-blown conference. Being there from the ground up forged lifelong creative friendships and made me realize that networking wasn't just about exchanging business cards – it's about creating meaningful relationships and truly helping each other along the way. As they say, a rising tide lifts all boats.
Who is the most inspirational person in your life?
The work of Dr. Brené Brown never ceases to inspire me. In fact, after reading a book review I wrote of Daring Greatly, Brené hired Braid Creative to help her with her personal brand and online presence before appearing on Oprah's Super Soul Sunday. Even since becoming a client, she's remained an incredible mentor and wealth of knowledge.
When do you feel most creative/productive?
I'm the most creative and productive when I have a full workday with no meetings on the calendar. I like to have my morning coffee, hit the gym and get to work with zero distractions. I'll take breaks every few hours to stretch my legs and go for a walk. I always make sure to have my phone on me when I'm taking a walk because I'm always struck with ideas that I want to be sure to capture in my memos on my phone.
What's your superpower, or what's your spirit animal?
My superpower is being able to commit to big goals and then break them down into action steps; plus I'm really good at making bold decisions without second-guessing whether they're right or wrong.
Looking back on your career what was the most painful lesson you were required to learn?
It's so easy to fall into the comparison trap – to look at someone else's highlight reel on Instagram and feel like you're not doing enough. The lesson here is that when you focus on what someone else has you 1) strip them of their own flawed humanity and 2) distract yourself from being who you are. This lesson has allowed me to lead with more compassion and stay true to my own vision for who I want to be and what I want to create.
Kathleen Shannon is the co-founder of Braid Creative, a branding agency for creative entrepreneurs and purpose-driven organizations. Kathleen is also the co-host of the Being Boss Podcast where she talks about mindset, habits, routines and systems and processes for creatives who want to make a business doing what they love – the podcast has over 5 million downloads and has featured experts including Dr. Brené Brown, Marie Forleo, Whole30 co-founder Melissa Hartwig and more. She's also the author of the Being Boss book published by Running Press in April 2018.
Kathleen is from Oklahoma and currently lives in Detroit with her husband and their 4 year old son, Fox.