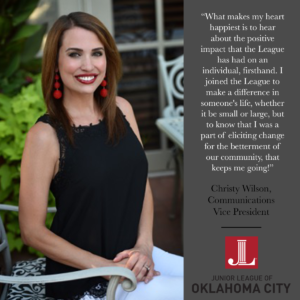 For this week's #MemberMonday we are featuring Communications Vice President, Christy Wilson. Christy joined the League to get more involved in the community. She loved the aspect of being able to participate and volunteer in so many different projects across our community, as well as making friends with women who are like-minded.

The entire mission statement of JLOC is meaningful to her and she loves that our focus is the same today as it was in 1928. Simply put, JLOC is bringing women together to effect community change.

The best part of Christy's position as Communications Vice President is being able to work with a diverse group of talented and intelligent women who are passionate about our organization and getting word out about all that the League does to better our community.

According to Christy, "what makes my heart happiest is to hear about the positive impact that the League has had on an individual, firsthand. I joined the League to make a difference in someone's life, whether it be small or large, but to know that I was a part of eliciting change for the betterment of our community, that keeps me going!"

She says the best part about being on the Board are the relationships that you form with fellow Board members. She loves that while they might not always agree with each other, they wholeheartedly support one another. She went into the League year knowing only a few of her peers, but will end her tenure with many cherished friendships.

The skills most necessary to her position as Communications Vice President are the ability to multi-task, organization skills and, of course, being a strong communicator. She also says that being well-versed in developing and implementing communication strategies is pretty essential to the position as well.