By Kayla Coffey
For this week's #MemberMonday we are featuring the Board of Director's Sustaining Advisor, Pam Newby.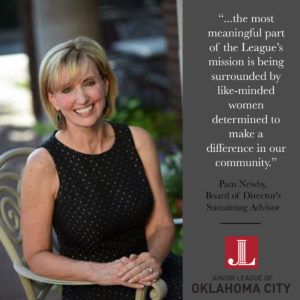 Pam joined the League to make a difference. She wanted to learn and be trained in nonprofit best practices, and JLOC was a perfect fit to help her reach these goals. The leadership opportunities that the League provides are an invaluable opportunity.
According to Pam, "the most meaningful part of the League's mission is being surrounded by like-minded women determined to make a difference in our community."
She says the best part of her position and serving on the Board is working with the incredible women of our League! She gets to give a historical perspective of League, as well as provide training and general support to the Board. Her advice for future members serving as the Board of Director's Sustaining Advisor is to have a willingness to lead rather than manage. To have the ability to delegate management tasks and have a visionary view for the future of the League.
We are so thankful to have such amazing sustaining members who continue to serve the League!