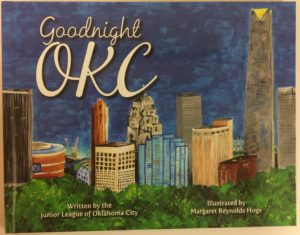 Illustrated by Margaret Hoge and written by Junior League of OKC volunteers, this book was modeled after the best-seller Goodnight Moon and is now in its second printing.
Not only for children, Goodnight OKC features 32 pages of colorful illustrations of some of the city's most memorable views and landmarks, including Bricktown, the Oklahoma City National Memorial & Museum, the Oklahoma State Capitol, the city skyline and more.
Goodnight OKC is published by the Junior League of Oklahoma City, an organization of women committed to promoting volunteerism, developing the potential of women and improving the community through effective action and leadership of trained volunteers. Its purpose is exclusively educational and charitable.