Father's Day Feature: Daniel Campbell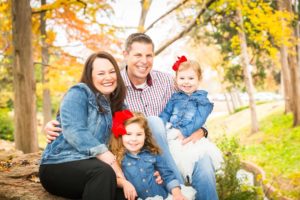 This Father's Day, we're honoring the men who make help make our members Unstoppable.
Learn what Daniel Campbell, husband to JLOC President Pam Campbell, likes being about a dad and what he enjoys about JLOC.
What is the best thing about being a dad?
I love playing with my girls, Grace and Olivia. I really enjoy having fun and laughing with them.
How long have you been married?
Pam and I have been married for five and a half years.
How did you meet your wife?
Working for Cox Communications, we met while volunteering at a water stop for the Oklahoma City Memorial Marathon. We were friends for many years before we started dating.
What are some of your favorite JLOC events?
I like to attend Mistletoe Market and especially the Preview Party. I also thought it was great working with other volunteers during the Zoo project this spring,
What is the one thing that has surprised you as a dad?
I was surprised to discover how much "stuff" children need, especially little girls. Do we really need that many bows?
How are you helping your girls grow up to become "unstoppable"?  
I want to help them have confidence in themselves and know they can do things for themselves, yet I will always be here to support, defend and cheer them on.
Tell us your favorite dad joke.
I used to be addicted to the hokey pokey, but I turned myself around.
Is there anything else you'd like to share with us about being a father? 
Even though it is hard sometimes, I feel fortunate that I get to be a dad to these two amazing girls. They challenge me every day to be my best.