2016 Sustainer of the Year Recipient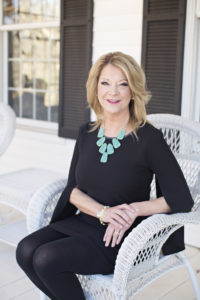 "This is my life's work. It is my passion and my privilege to
serve the last, least and littlest in our community,"
– Miki Farris, 2016 Sustainer of the Year
Miki Farris was one of the original founders of Infant Crisis Services in 1984, and has served as the Executive Director since 1992.
She is an Oklahoma State University graduate (Go Pokes), sustainer in the Junior League of Oklahoma City, member and Past President of the Alumni Board of Leadership OKC, member of Kappa Kappa Gamma Alumnae, and an active member of the United Methodist Church of the Servant. Miki is happily married to Jim Farris and has four adult children, three daughters, one son, and three very darling grandsons.
Miki has received numerous awards over the years.  Her most recent awards include being named as the 2011 Oklahoma Mother of the Year by American Mother's Inc. and was also awarded the 2011 Blue Cross/Blue Shield Champion of Children's Health.  In 2013 Miki was named one of the Journal Record's Most Admired CEO's. Miki was also chosen as one of five women across the U.S. to receive Traditional Home Magazine's Classic Woman Award for 2013. In December 2013 she was presented the Oklahoma Center for Nonprofit's "Pat Potts Visionary Award". In 2015, Slice magazine named Infant Crisis Services "Best Nonprofit" and Miki as "Best Nonprofit Leader".  Infant Crisis Services also received the Center for Nonprofit's "One Award" in the self-sufficiency category in 2015. In 2016 Miki has been named the Kappa Kappa Gamma Woman of the Year by the Greater Oklahoma City Alumnae Panhellenic Association.
Infant Crisis Services received a Capital Grant from the Donald W. Reynolds Foundation in 2007 to fund the construction of a new and larger facility and moved in February 2009 to their new 17,000 square foot facility.  The agency has recently received a matching grant from the Donald W. Reynolds Foundation to construct another 18,000 square feet of space which should be completed Summer 2016.