The Junior League of Oklahoma City's Headquarters' Christmas Tree plays host to our lovely Silver Bell ornaments each holiday season year. Purchased in a member's honor, Silver Bells serve to recognize fellow JLOC members or committee chairs and are engraved with her name. Each year, new Silver Bells hang alongside Silver Bells of the past, shining as part of a JLOC tradition that will be on display for years to come.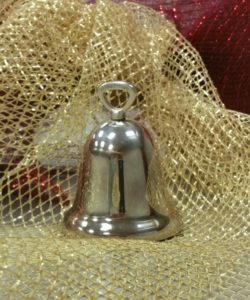 To order please click HERE.
Silver Bell costs $35 each, which includes the engraving of up to 10 letters. Any lettering over 10 characters will cost an additional $.50 per letter. Order yours today!