OKC Jungle Gym Expansion & Renovation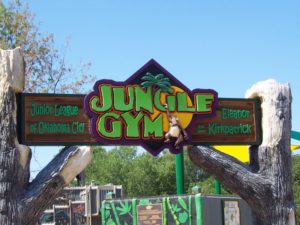 Join us as we embark on a Rebuild of our signature legacy project, the Jungle Gym at the OKC Zoo! In honor of the 90th anniversary, JLOC will host a 5-day Rebuild event, April 11 – 15, 2018, and we need YOUR help to update and refresh the playground, as well expand its footprint to add new features and components!
In line with our mission, JLOC empowers women to volunteer, lead, train, and make a difference in our community through this unique rebuild. We welcome your families, friends, neighbors, coworkers, civic organizations, and other groups to join us for this blitz!
We need Skilled and Unskilled volunteers to help with this project to improve the playground at the OKC Zoo. Shifts will be offered each day and last 4-hours per shift.
Please note:
A Skilled Volunteer is defined as someone who feels comfortable operating a circular saw. 
Volunteers must be at least 10 years of age. No one under the age of 10 may be on the construction site at any time.

Volunteers age 10-13 must work with their parents and remain within arm's length of parents at all times.
Volunteers ages 14-17 may work independently of their parents, but will not be allowed to handle or operate power tools.
Volunteer Shift Times are as follows:
SHIFT TIMES:     
8 am – 12 pm
*2:00-6:00pm on Wednesday ONLY         

SHIFT DAYS:Wednesday, April 11
Thursday, April 12
Friday, April 13
Saturday, April 14
Sunday, April 15
Sign up HERE to volunteer for this project.