OKC Jungle Gym Expansion & Renovation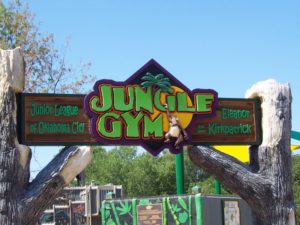 If you have already signed up to volunteer at the Jungle Gym Rebuild, THANK YOU! We look forward to seeing you there!  We have been overwhelmed with the response to our call for volunteers, and we are FULL on all shifts!
For those of you who have signed up, please read this important information: (Insert link my JG volunteer letter)
Here is a direct link to the volunteer liability waiver (insert link to liability waiver).
If you need to CANCEL your shift, please send your name and selected shift time to Ann Trudgeon at atrudgeon24@gmail.com.  
If you would like to RESCHEDULE your shift, limited options are available. Please email Ann Trudgeon at the link above and provide your name, shift time you cannot keep, and preferred new shift time. We will do our best to accommodate you!
As a reminder, here are the shift dates and times:
Volunteer Shift Times are as follows:
SHIFT TIMES:     
8 am – 12 pm
*2:00-6:00pm on Wednesday ONLY         

SHIFT DAYS:Wednesday, April 11
Thursday, April 12
Friday, April 13
Saturday, April 14
Sunday, April 15
For those of you who have signed up, please read this important information: Here
Can't volunteer but interested in participating in the Expansion and Renovation? Check out the options below:
Jungle Gym Supplies Needed: 
Please consider donating a few items to the Jungle Gym Project. Items can be deposited at Headquarters in the designated Jungle Gym Container or closet. Click
HERE
for a fill list of tools and materials needed.
Amazon Wish List:
Click
HERE
 for a full list of needed items available for purchase to help support our Hospitality and Volunteer needs. Order through Amazon and items will be sent directly to JLOC, so no fuss or muss for you! JLOC will provide all donors with a tax letter for their donations.
Safari Soirée:
Join us on Saturday, April 27, at the Zoo for a fun night of  Click
HERE 
to purchase a ticket and be sure to use code
JL2018
! By using this code, a significant portion of each Safari Soirée ticket purchased through the Junior League partnership will directly benefit our efforts to renovate the Jungle Gym.