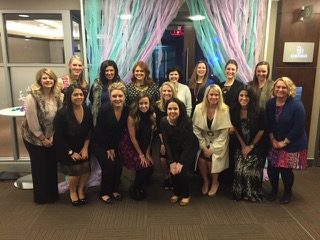 A healthy self-image is a massive challenge for children, pre-teens and teens who experience a sudden injury, illness or who suffer from a chronic illness. Prom Night at The Children's Hospital at OU Medical Center exists to provide a social activity for hospital patients to help combat depression, anxiety, and withdrawal from social experiences that are common and compound the health challenges these children face.
JLOC volunteers select a Prom theme and plan and execute a day of activities for children, pre-teens, and teens based on that theme. For these attendees, who may not have the opportunity to attend their school social events of coming-of-age milestones due to their illness, Prom is a much-needed opportunity of "normalcy" in their lives. JLOC volunteers facilitate the event from start to finish, securing items and volunteers/professional services such as:
Prom attire (dresses and suits) and accessories through separate donation drives
Entertainment (DJ or band) and event Photographer
Hair Stylists, Makeup Artists, and Nail Techs
Decorations for the Prom theme
Swag bag items for attendees
On the day of the event, volunteers act as event coordinators, helping in a multitude of areas, such as facilitating the selection of dresses and suits by the attendees, hemming clothing as needed, coordinating beauty (hair and makeup) and grooming sessions, manage games and craft areas, photo booths, etc. Families of Prom attendees are also invited to the event, allowing the entire family a chance to laugh, smile, and dance together!