2019 President's Spirit of Commitment Award Recipient
Recipients of the President's Spirit of Commitment Award have demonstrated significant volunteer achievement and commitment to the community throughout her lifetime. This award recognizes community leaders that have created real change in the local community. By applying her Junior League training and leadership skills to the volunteer service she helped create, organize and develop, these recipients symbolize the Junior League spirit.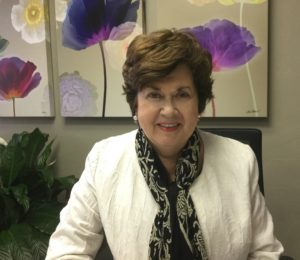 Our 2019 President's Spirit of Commitment recipient is Kay Oliver.
Kay Oliver has combined a 30 year professional career with her commitment to building strong community partnerships.
Raised in Stillwater, Kay is a graduate of Oklahoma State University with a bachelor's of science degree in education. Her first community involvement began when she was a fifth grade teacher at James Monroe School in Oklahoma City. Working in partnership with other educators, she helped implement student-focused math programs which resulted in improvement in test scores. During this time, she also earned her Master's degree in education from the University of Oklahoma.
Following a career as an educator, Kay transitioned her focus to working as a community volunteer. One of her earliest commitments was membership in the Junior League of Oklahoma City. It was because of this opportunity that she learned more about her community, organizational leadership and financial practices. This lead to Kay chairing the League's Finance Committee, Remarkable Shop and serving as the League's treasurer and treasurer of the Remarkable Shop.
Upon becoming a Junior League Sustainer, she returned to the professional world armed with community, organizational and financial experience. These talents created the opportunity to serve as Executive Director of the Mercy Hospital Foundation. This is a position she held with pride and success for the next 30 years.
Kay was involved in building community support, developing a foundation and raising funds to fulfill the Mercy mission. Each was enhanced by her early experiences and training. This training became essential as she added 300 volunteers and two gift shops providing funding for many projects.
After serving ten years on the Oklahoma City Community Foundation's Agency Capacity Building Committee, Kay learned more about partnerships to help improve the community's health and wellness needs. She and co-workers worked with community agencies to develop and support existing programs. Examples of this outreach include: Project Early Detection, which includes free mammograms and follow-up through biopsy for uninsured; a partnership with Susan G. Komen Breast Cancer Foundation; Food for Kids, a backpack program for weekend food for kids in which Kay's team was the first to partner with the Regional Food Bank with Caritas grant funding and volunteers; and Health Alliance for the Uninsured, a specialty care program for free clinic patients for special care and surgery which includes partnerships with Mercy, Integris, St. Anthony and Oklahoma Medical Society.
Kay also provided leadership for funding of a new state-of-the-art Cancer Center and Breast Center at Mercy, named the Coletta Building, where patients are given compassionate care with the latest equipment and technology by an outstanding team of physicians and nurses.