2018 Sustainer of the Year Recipient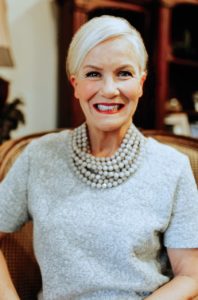 Jeanie Butts
Jeanie LeBlanc Butts was born in San Diego, California, raised in Fort Smith, Arkansas and graduated from high school in Bartlesville, Oklahoma. Jeanie attended Oklahoma State University where she was a member of Chi Omega Sorority and graduated with a Bachelor of Arts degree followed by a Juris Doctorate from Oklahoma City University School of Law. While attending law school, Jeanie worked as an intern in the office of the Oklahoma Attorney General and thereafter became an Assistant Attorney General in the criminal division, upon graduation. Jeanie later took the position of Assistant Municipal Attorney for the City of Norman, practicing in both the civil and prosecution divisions for seven years.
Jeanie is married to Ben Butts, who is a trial lawyer in Oklahoma City. Ben attended Washington and Lee University and the University of Oklahoma School of Law. They recently celebrated their 30th wedding anniversary. Jeanie and Ben have two daughters, Alex Brady and Zoe Butts, both lawyers in Oklahoma City and both attended Texas Christian University where they were members of Chi Omega Sorority and members of the TCU Showgirls Dance Team. Alex's husband, Michael Brady is currently a law student at the University of Oklahoma School of Law.
Jeanie's passion for giving back to her community is strongly rooted in her involvement in Chi Omega Sorority. Jeanie has been actively involved in the Chi Omega Alumnae organization as Past-President of the Alumnae Chapter, Chair of Chi Omega Carousel, Co-Chair of Chi Omega Passion For A Passion fundraiser and currently serves as the National Alumnae Area Recruitment Information Chair. Jeanie feels her most important work has been serving as the Personnel and Recruitment Advisor for the Chi Omega chapter at the University of Oklahoma, where she has served for the past eight years. Jeanie's strong commitment to mentoring young women has made an important impact on the Chi Omega chapter in Norman. Evidence of Jeanie's profound impact was her selection by the University as the 2013 University of Oklahoma Panhellenic Advisor of the Year. Jeanie was also honored as the Greater Oklahoma City Panhellenic Alumnae Association 2011 Chi Omega Woman of the Year. Jeanie finds great pride in encouraging young women of Chi Omega to find their inner strengths as leaders during their active years as Chi Omegas that they will utilize throughout their entire lives.
Additionally, Jeanie has served her community in other leadership capacities throughout the years. When her daughters attended Heritage Hall School, Jeanie fulfilled many volunteer positions. She served on the Heritage Hall School Parents Association as Vice-President of Service, Nominating Chairman and Upper School Chairman. Jeanie is also an active member of Christ the King Catholic Church where she taught Sunday School for thirteen years.