2017 Sustainer of the Year Recipient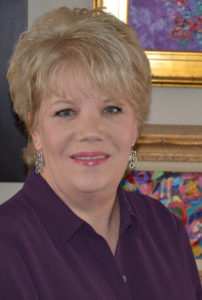 Beth Kerr
Elizabeth Hixon Kerr (Beth) graduated with a Bachelor of Arts degree from Southern Methodist University and later earned her Juris Doctor from Oklahoma City University.  While attending law school, Ms. Kerr worked as an intern in the office of the Honorable Yvonne Kauger, Justice of the Oklahoma Supreme Court.
Upon graduation, Ms. Kerr took the position of an Assistant Municipal Counselor for the City of Oklahoma City, practicing in both the civil and prosecution divisions.  She was then appointed as General Counsel of the Oklahoma City County Health Department, a position she held until entering the private practice of law.    She has also held the position of adjunct professor at the Oklahoma City University School of Business.
Ms. Kerr was appointed as Associate Municipal Judge for the City of Edmond from  2001 through 2008.  She is the first woman to serve on the bench for the City of Edmond.
Ms. Kerr is currently the Legal Counsel and an adjunct professor for the University of Central Oklahoma.   She has served as an appointee of Governor Mary Fallin to the Oklahoma Teachers Retirement Board of Trustees and serves on the board of the National Behavioral Intervention Team Association (NaBita).
Ms. Kerr has been involved in numerous civic and charitable activities both in Oklahoma City, Edmond and Norman, including the Board of Visitors for the Weitzenhoffer College of Fine Arts at the University of Oklahoma; OU Medical Center Board;  the Community Council of OU Medical Center, Edmond; Oklahoma Public School Foundation Advisory Board, Leadership Oklahoma; Leadership Edmond; Edmond Chamber of Commerce; Edmond Historical Museum Board; The Oklahoma Academy for State Goals; Board of Big Brothers, Big Sisters; Board of Lyric Theatre; Sustaining advisor, Junior League of Oklahoma City; The Edmond Women's Club, of which she was president in 1998.
Honors: — University of Central Oklahoma Empowerment for Excellence Third Annual Women Who Inspire award, 2015; Journal Record's one of 50 Women of the Year in 2011, 2013 and Circle of Excellence 2014; Byliner Award for Law in 2011; Named one of the most influential women in the history of Edmond ,OK in 2007; Leadership Award from Miss Oklahoma USA, in 2004.
Ms. Kerr lives in Edmond with her husband, Steve. They have two sons, James, 26, who lives in Los Angeles and Wilson, 24, who is pursuing his Masters Degree at The  Ohio State.  They also share their home with three chocolate labs, Scout, Belle and Rumble, a grand dog named Buckley and a cat, Harper Lee.