2017 President's Spirit of Commitment Award Recipient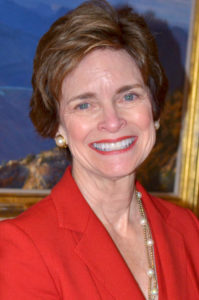 Polly Nichols
Polly Nichols has always maintained her Junior League training and experiences have been the foundation for her volunteer career in the nonprofit sector.  Junior League training, an interest in nonprofit structure and governance, and a desire to help organizations embrace change to remain relevant have enabled her to be active in a number of organizations and causes.
Growing up in McAlester, Polly graduated from the University of Oklahoma with a degree in Political Science and a Masters in Library Science.  She moved to Washington, DC and a job with the Library of Congress in the Congressional Information Service, a perfect blending of her two degrees.
The highlight of her five years in Washington had to be meeting Larry Nichols via an introduction from Larry's aunt who lived in McAlester and was Polly's Mother's best friend.  Although initially skeptical because of the source of the introduction, Larry asked for a date, and in 1971 they were on their way to life together in Oklahoma City.  Only after they decided they might like each other did they discover Larry's Mother and Polly's Mother grew up together in McAlester and were in each other's wedding!
Polly and Larry are now two years shy of 50 years of marriage.  Polly firmly believes the most important ingredient for a good marriage is the ability to grow and change together.  Neither one could have imagined the wonderful life that awaited them in Oklahoma City as Polly became active in the community and Larry went into business with his father, founding Devon Energy.
Polly enjoys working with nonprofits undergoing change and enjoys a long lasting commitment with her organizations.  Moving to Oklahoma City, she quickly became involved with the Oklahoma Science and Arts Foundation as it transitioned from the fairgrounds to become Omniplex at Kirkpatrick Center, and then Science Museum Oklahoma.  With the exception of John Kirkpatrick, she was the longest serving board member when she retired from the board.
She was the first woman and one of the longest serving board members for Integris Baptist Medical Center as it faced tremendous change in the healthcare industry.  She began as a board member for the Oklahoma Center for Nonprofits when it was the Support Center and continues her involvement with the organization today.  Polly's time as an officer of the Junior League was also a time of transition with changes in the admission process, the project approval and appraisal processes, board structure and involvement in public affairs.
She joined the founding board of the Oklahoma Foundation for Excellence as a member of the executive committee and later became the Executive Director for seven years of substantial growth and change for that organization.
She has been deeply involved in her work with the Oklahoma City National Memorial and Museum.  Polly is a survivor, but her cousin died in the 1995 bombing.  She says she has been given a second chance to understand that people and relationships are the important things in life and wants her work in the nonprofit sector to convey – every day – how grateful she is for this second chance.
For the Memorial, Polly served as co-chair of the $29.1 million capital campaign and as Chairman of the Memorial Foundation Governing Board.  She has served as president of the OKC Junior League, chair of Science Museum Oklahoma, chair of the Oklahoma Center for Nonprofits, co-chair of the Allied Arts Fund Drive, and co-chair of the founding Juliette Low Leadership Society Luncheon for Girl Scouts – Western Oklahoma as well as honorary chair of the recent Girl Scouts capital campaign.  Polly and Larry served as the first couple to chair the United Way Campaign and both have been inducted into the Oklahoma Hall of Fame.
Polly and Larry have two children, Sally and her husband Jeff Starling who live with their two daughters in Oklahoma City, and Tyler Nichols and his wife Caroline who live in Richmond, Virginia with their two sons. They enjoy traveling to interesting places, mountain hiking, pancakes and snuggling with grandchildren on overnights, and being involved in their community.
Polly's Mother-in-Law was the fifth recipient of the Spirit of Commitment Award two years ago at the age of 98.  Mary Nichols is now 100 and continues her commitment to life.